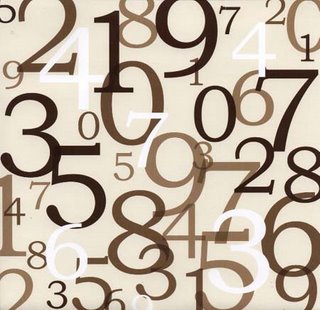 Reading, writing, and 'rithmatic. When letters and numbers combine in the form of fiction, strange and interesting things are bound to happen. A number in a book title can indicate so many things: populations of people, distance to travel, codes to break, mysteries to solve. O reading, how do I love thee? Let me count the ways.
And Then There Were None by Agatha Christie, 2003, Harper Books, originally published 1940 (Mystery Classics)
Ten strangers—a rich playboy, a careless doctor, an army general, an ex-police inspector, a rigidly religious old woman, a husband-and-wife servant couple, a young schoolmarm, a court judge, and a con man—are invited to an island vacation by Mr. and Mrs. U.N. Owen. But once they arrive on the island and the boat to the mainland departs, they find an empty house—no hosts to greet them and only each other (and they're all strangers) for company. But there is an explanation waiting. A gramophone recording announces that the ten of them have been gathered together because each committed a crime and got away with it. Each guest is responsible for the death of someone else, and for whatever reason, their crimes could not be proved. Well, justice is about to be served. One by one, the guests start dying—poisoned, shot, bashed in the head, pushed off a cliff. Someone is on the island, picking off guests one by one, and all the ten guests have to guide them is a nursery rhyme hanging on the wall and ten little statues that disappear one by one as each guest is polished off. And Then There None, also published as Ten Little Indians, is renowned mystery author Agatha Christie's best known, best loved, and most successfully plotted whodunit. Readers have been trying to puzzle this one out, and being knocked head-over-heels by the twist ending, for decades. Irresistibly baffling, this is one of the best countdowns in literary history. Christie (1890-1976), who wrote over sixty novels and over one-hundred short stories, had a thing for numbers in her titles. In addition to And Then There Were None/ Ten Little Indians, readers can count on more mystery in Towards Zero, One Two Buckle My Shoe, Murder in Three Acts, Third Girl, The Big Four, Five Little Pigs, The Seven Dials Mystery, and Thirteen Problems.
The Eight by Katherine Neville, 2006, Corgi Books, originally published in 1988 (Thriller/ Mystery/ Historical Fiction)
In 1790 in the secluded Algerian abbey of Montglane, two lively young girls, cousins Valentine and Mireille, are novices training to be nuns. But the country is in rebellion; the French Revolution and the Reign of Terror are in full swing, and the wide world is pressing in on the quiet abbey in the mountains. When their abbess reveals a dark secret connected with their order, the adventurous cousins do their part to help hide the nuns' mystery from the prying hands of dangerous enemies. Nearly two hundred years later in 1973, computer whiz Catherine "Cat" Velis is traveling to Algiers on an assignment when she falls in with a quest to retrieve that same ages-old secret that Valentine and Mireille hid so long ago. What is this much sought after, highly treasured object that strangers are willing to kill for? It's a chess set, an oversized, ornate, gold and silver, bejeweled set of kings and queens and knights and pawns, crafted by Moors, owned by Charlemagne, and possessed of a mystic force that few understand but that all recognize the power of. It's known as the Montglane Service and everyone, from Russian chess grandmasters to secret society Freemasons to agents and assassins from the world's most powerful nations, wants it. What part our heroines Valentine, Mireille, and Cat, whom we hear from in intertwining chapters that speak back and forth from across the ages, play in the Montglane Service's influential and fascinating history is all part of the fun, mystery, and adventure. Chock-full of historical figures from the past (including Napoleon, Robespierre, and Catherine the Great) and filled with puzzles, codes, and clues à la The Da Vinci Code for characters and readers alike, The Eight is a fast-paced, globe-trotting, historical thriller
The 13 Clocks by James Thurber, illustrated by Marc Simont, 2007, New York Review Children's Collection, originally published in 1950 (Children's Classics/ Fantasy)













A clever, wicked duke lives a life so cold that the thirteen clocks in his castle are frozen permanently at ten minutes to five o'clock. He's so mean and cold that he's been known to feed people to his geese just for calling his gloves "mittens," or for having names that begin with X. The only warmth in practically the whole kingdom radiates from the duke's beautiful niece, the ever-so-sweet Princess Saralinda. Suitors have been coming for ages to bid for the Princess's hand, but none can ever defeat the tasks the duke sets for them because—and this is why the duke is so wicked and clever—the tasks are impossible. You can't slay the thorny Boar of Borythorn if there is no thorny Boar of Borythorn, after all. When a prince-in-disguise arrives in town, no one is willing to bet on his chances against the duke's craftiness. But the prince has a surprising ally—a funny little fellow who calls himself the Golux, talks in riddles, and is never quite sure if the plans he's made are based on are facts or on something he's just made up himself. Still, the Golux claims he's on the side of good, so the prince embarks on madcap adventure filled with old women who cry jewels, spies with names like Hark and Listen, and a miserable monster whose duty it is to snuff out evildoers who have done less evil than they should. It's the stuff that all good fairy tales and fables are made up, but there's something quite distinct about The 13 Clocks, and that's its author, James Thurber (1894-1961), a noted humorist who had a wonderful way with words. Thurber's witty story reels from poetry to prose and back again, with an occasional stop at joyous nonsense along the way. It's a truly delightful romp through the wonders of the English language and the good old tradition of happily ever after.
Thirteen Reasons Why by Jay Asher, 2008, Razorbill Books (Teen Fiction/ Contemporary Fiction)
When Clay Jenson finds a package on his doorstep, he's excited. When he opens it to find a bunch of cassette tapes, he's curious. When he listens to them, he's shocked—because the voice on the tapes belongs to Clay's high school classmate Hannah Baker, and Hannah killed herself two weeks ago. As Clay listens, Hannah explains why. Clay is one of thirteen people to receive the tapes, one of thirteen people who played a part in Hannah's decision to end her life, one of thirteen people who Hannah chose to tell about it. Clay is horrified that he is on Hannah's list; he didn't know her well, but he had a crush on her from afar, and he certainly never intended to do anything that might hurt her. Hannah, speaking from beyond the grave, is alternately defensive, sarcastic, desperate, and soulful as she talks about her classmates—who spread rumors about her, who believed the rumors, who acted on them, and who chose to remain silent despite the destructive chain of events that unfolds. Clay is alternately surprised, pained, and completely overwhelmed by Hannah's haunting tale of lies and betrayals. Most of the book—author Jay Asher's debut novel—takes places in Clay's head as he listens to Hannah (her voice appears in italics on the page) and thinks about what she says; despite this structure, the pace is still quick and suspense-driven as Clay anxiously waits for his name to appear in Hannah's story. The audiobook, with its dual male and female narrators, is an especially effective way to experience Thirteen Reasons Why, since the reader is listening to CDs much the same way the Clay listens to Hannah's tapes. Theirs is an unusual dialogue, but it is one that's highly effective and gut-wrenchingly emotional.
The Thirty-Nine Steps by John Buchan, 2009, Samuel French Books, originally published 1915 (Fiction Classics/ Adventure)
Richard Hannay is bored. He's spent most of his life on the go in exotic South Africa, and dreary old London is damp and dull in comparison. But the world is on the brink of war—the year is 1914—and Hannay knows there's adventure out there somewhere. He decides to give London one more day to deliver some excitement, and to his surprise, the good city lives up to its end of the bargain. Hannay comes home to find his upstairs neighbor, Franklin P. Scudder, in quite a pickle. Scudder is in possession of important information, state secrets about anarchists and assassins and political plots that hold the lives of thousands of people at risk. Hannay agrees to hide Scudder, who has faked his death to throw off his enemies, but a few days later a dangerous spy tracks Scudder down and murders him in Hannay's apartment. Now Hannay is on the run with what he knows of the plot, hiding from both the political bullies who got Scudder and the police who want him for Scudder's murder. There are codes to decipher, disguises to don, villains in aeroplanes to outmaneuver, aristocratic politicians to convince, and an important mystery hidden in the words "the thirty-nine steps." Action-packed with thrills galore, spy fiction got off to a rousing start with The Thirty-Nine Steps (which was also made into a suspense film by the infamous Alfred Hitchcock). Lone men in possession of valuable information have been on the run ever since, from James Bond to Jason Bourne. The thriller genre owes quite a debt to John Buchan and his cocky, crafty hero Richard Hannay, and this original escapade is a true-blue blueprint for espionage adventure.
The 39 Clues, Book One: The Maze of Bones by Rick Riordan, 2008, Scholastic Books (Children's Fiction/ Adventure)
The Cahills are an ancient, powerful family with branches that extend to all corners of the world and contain some—make that all—of history's finest explorers, inventors, artists, and intellectuals. But for now, the two most important members of the Cahill family are fourteen-year-old Amy and her eleven-year-old brother Dan. They are the grandchildren of family matriarch Grace Cahill, who sets an astounding adventure in motion when, in her will, she challenges her family to follow a set of puzzling clues that lead to a powerful and influential prize. Amy and Dan, orphans with no one else to rely on, seem like the least likely relations to embark on a mysterious scavenger hunt, but they loved their grandmother and are determined to do her proud. The first clue leads the siblings on a whirlwind chase from Boston to Paris, but other Cahills are hard on their heels—ruthless brother and sister team Ian and Natalie, poisonous ex-spy Irina Spasky, sneaky alliance-making Alistair Oh, and fame-hungry Jonah Wizard. Amy and Dan have their own strengths, and they'll more than need them as they (and the reader) decipher codes between dodging assassins and explosions—and all this in book one! The 39 Clues is a new kind of series. Readers not only read the books, they collect character cards, play at being a treasure-seeking Cahill online at www.The39Clues.com, and even win prizes. Author Rick Riordan of Percy Jackson and the Olympians fame penned the first title and created the arc for the series, but a different author writes each book to keep things exciting and new. The clues continue in One False Note, The Sword Thief, Beyond the Grave, The Black Circle, In Too Deep, The Viper's Nest, and The Emperor's Code; two more titles are planned for a total of ten rousing, rollicking, interactive adventures.
One Hundred Years of Solitude by Gabriel García Márquez, 2006, Harper Perennial Modern Classics, originally published 1967 (Literary Fiction/ Historical Fiction)
Remember the name José Arcadio Buendía. It won't be easy to forget, because Buendía founded the town of Macando and we're about to spend one hundred glorious years following its history—and that of Buendía's descendants, who bear portions of his name for generations and inherit in varying quantities his often-contrary personality traits of pensiveness, curiosity, impulsiveness, and rationality. There are his sons, José Arcadio and Aureliano, a playboy and a war-time general. His daughters Amaranta (biological) and Rebeca (adopted) are devoted companions until a man comes between them. There are his grandsons Arcadio, Aureliano José, and the seventeen sons (by seventeen women) of General Aureliano who are all shot between the eyes by government assassins. Great-granddaughter Remedios the Beauty is the most beautiful woman Macando has ever seen, and as such causes the deaths of several townsmen. There are members of the fourth, fifth, and even sixth generations with strange and wondrous stories of their own, but mere descriptions of the characters are not enough to convey the allure of One Hundred Years of Solitude and the spell it weaves as it explores the myriad sorrows, joys, rises, and falls of the unconquerable Buendía dynasty. Author Gabriel García Márquez won the Nobel Prize for this masterpiece and introduced the world to his brand of magical realism. He tosses tantalizing bits of fantasy and magic into his story to create a lyrical novel that has everything: tragedy, comedy, romance, war, death, and above all, the vibrancy of life.
20,000 Leagues Under the Sea by Jules Verne, 2000, HarperCollins, originally published 1870 (Fiction Classics/ Science Fiction/ Adventure)
In 1866, ships crossing the oceans began to experience strange phenomena—an enormous "thing" spraying water into the air; collisions with a fast-moving underwater object. Sailors dub it "the monster," but no one really knows what it is. Popular opinion is that some creature from the depths has decided to break the surface on a whim, and that this monster must be destroyed to protect the world's shipping lanes. When our narrator, professor and scientist Pierre Aronnax, is invited aboard the ship that intends to pursue the strange colossal thing, the reader is plunged into an adventure the likes of which few have experienced before. The "monster" does not take kindly to being hunted, and after an encounter with it on the high seas, Aronnax, his servant Conseil, and fellow sailor Ned Land find themselves not in the belly of a giant whale, but inside a vast high-tech submarine called the Nautilus. Its captain is Nemo, a powerful, brilliant, obsessive, and very possibly mad gentleman who has abandoned the world of men for the marvels of the sea. Now that Aronnax and company have discovered the Nautilus, they're told by that they must remain onboard as permanent guests and journey the seas with the crew and its avenging captain. Their voyage, from an exploration of the underwater city of Atlantis to an epic battle with a ferocious monster squid, is crafted with all the wondrous technologies and fantasies that author Jules Verne (1828-1905) can imagine—and make no mistake, he could imagine quite a lot. 20,000 Leagues Under the Sea is a tall tale of the finest order, an original science fiction fantasy that combines high adventure and plunges the depths of both the sea and of the human heart. Many editions of this classic abound; of particular interest is the 2000 HarperCollins edition illustrated by Caldecott medal winning artists Leo and Diane Dillon, who convey the power of sea, squid, and submarine in all their glory and wonder.