Dysfunctional families, dysfunctional childhoods, dysfunctional lives: We've all got them. Some more than others, true, but everyone's got a story. Whether it's tales of surviving adolescence or illness, stories about parents or siblings, the trials and tribulations of love or war, autobiographies and memoirs have been staples of storytelling for hundreds of years. But times they changing. One of the more recent and innovative ways to share the twisted stories of our pasts is not just to write them, but to draw them as well. Memoirs told in the comic strip/ graphic style format are becoming more popular and more successful as savvy authors and readers explore unconventional ways to write and read books. And in the case of graphic novels, unconventional also means artistic, funny, and wildly creative, and full of color and life.
One! Hundred! Demons! by Lynda Barry, 2002, Sasquatch Books (Graphic Novel/ Memoir)
One day, cartoonist Lynda Barry came across an ancient exercise by a Buddhist monk that calls for a painter to practice technique by drawing one hundred little demons. So she tried it, and after she inked a bunch of critters with tails and horns, she began exorcising some her own personal demons. One! Hundred! Demons! is the result, a crafty little first-person graphic memoir (part true, part exagerated, resulting in what Barry creatively calls "autofictionalbiography") about living through the pains of everything from dating to dancing to the 2000 presidential election. Each of Barry's "demons," or chapters, is introduces by a full-spread page that's a combination of squiggly drawings, multi-media collage, and old-fashioned personal photographs. Barry's stories are often embarrassingly honest, but they're also always relatable and never exploitive. There's a real fondness for the mistakes and missteps of the past here, a sense of regret coupled with a nostalgia that's impossible to resist. Barry's artistic style is bold, colorful, almost childlike in its exuberance, and her characters--her chain-smoking mother, the hardscrabble kids in her neighborhood, her own red-haired freckle-faced childhood self--are show in all their wayward, awkward, goofy glory. And once you've finished cringing and chuckling your way through stories about head lice, first boyfriends, the unique smells of houses, and the ins and outs of street kickball, Lynda Barry shows you exactly how much fun you can have drawing a few demons of your own.
I Never Liked You by Chester Brown, 1994, Drawn and Quarterly Books (Graphic Novel/ Memoir)
In a Canadian suburb in the 1970s, Chester Brown is a typical teenager. "Typical" means that he's involved in a series of detached, passive-aggressive relationships with his unraveling mother, his schoolmates (some who bully and some who flirt), and the girls next door. Chester is a skinny, artistic kid who, despite his too-cool front, is absolutely clueless. The kids in young Chester's world try desperately to maneuver the confusing rituals of love and like. They're awkward, wistful, manipulative, and mean-spirited. The things they do are at odds with the things they say; they want to be mature, savvy adults when they're still petulant little kids at heart. The adult author Chester Brown depicts the moments of unease that epitomize teenhood with elegant little black-and-white line drawings, often a single panel on an otherwise blank page to really drive the home the emptiness and loneliness that is adolescence. The storyline is carefully paced; every incident is intense and focused and driving toward a strange, stirring conclusion. Chester Brown's dysfunctional childhood is not one you'll soon forget.
Stitches by David Small, 2009, W.W. Norton (Teen Fiction/ Graphic Novel/ Memoir)
It is suburban American in the 1950s and 60s, back when we didn't know a whole lot about the effects of smoking or x-rays, so being subjected to both as a child might not seem to be such a big deal for young David Small, especially given the dysfunctional dynamics of his immediate family. His parents are, to put it mildly, distinctly uncommunicative. This becomes something of an issue when, at age fourteen, David wakes in the hospital after a supposedly-routine surgery to discover that a ragged scar of stitches across his throat has left him minus one vocal cord and little better than mute. "Can't we talk about this?" takes on a whole new meaning when David learns that what he actually had was cancer, and that his parents didn't think he needed to know about it. Now David is left to cope with these betrayals as his mother spirals downward, his father fades into the distance, and his older brother has no time for him. The adult David Small recounts these childhood traumas with stark, crisp images and, after the surgery, pages of wordless pictures that tell a raw, harrowing story filled with the kind of memories that we'll all find eerily familiar, regardless of the amount of drama in our own pasts. There is hope here too, and recovery and healing both physical and emotional. Today David Small is best known as the award-winning illustrator of quirky, delightful children's books like The Gardener, Imogene's Antlers, and When Dinosaurs Came with Everything. Stitches makes it pretty obvious that his own childhood was not nearly as picture perfect, but his journey from voiceless boy to critically-acclaimed artist is haunting, memorable, and un-put-downable.
Fun Home: A Family Tragicomic by Alison Bechdel, 2006, Houghton Mifflin Harcourt (Graphic Novel/ Memoir)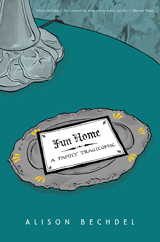 Alison Bechdel's father was the proprietor of the local funeral home. That alone might produce some highly unusual childhood stories, but there's more dysfunction to come. Bechdel's family lived in an ornate Victorian mansion that her father obsessively and constinually restored, her father was a closeted gay man, and a court trial dealing with her father's involvement with teen boys casts a shadow over Bechdel's own coming-of-age as a woman and lesbian. That's a lot of childhood and adolescent drama to overcome, but Bechdel handles her painfully ironic situation with dignity and humor—no easy task given the circumstances. Based in part on Bechdel's long-running comic strip Dykes to Watch Out For and her own childhood journals and diaries, Fun Home is filled with literary references galore, moments of quiet desperation, and revealing experiences. The artwork is sophisticated with a depth that compliments the complexity of Bechdel's relationship with her secretive father, and the episodic nature of the narrative works well with the comic strip style of the graphic novel format. Fun Home adds up to a memoir that is tragicomic indeed: poignant, relevant, utterly engrossing.
Epileptic by David B., 2005, Pantheon Books (Graphic Novel/ Memoir)
David B. was born Pierre-François. He grew up in France in the 1960s and 70s with his mother, father, older brother Jean-Cristophe and little sister Florence. The siblings played in the alleys and streets with the neighborhood kids; life was normal. Then, one day when Pierre-François is nine years old, eleven-year-old Jean-Cristophe suffers a grand mal epileptic seizure in the street. The family is changed forever, and together they set out on an endless search for something—anything—that will cure Jean-Cristophe's epilepsy. The journey is not pretty. Not only are Jean-Cristophe's seizures debilitating and awful to behold, but the possibilities of a genuine cure are slim. A horrific surgery is rejected for a stint with an extreme macrobiotic cult; spiritualists consult with the dead, who are supposed to deliver a miracle cure; doctors, philosophers, psychiatrists, intellectuals, and religious leaders are consulted as a last resort that can never really be the final attempt. The family is often treated with cruelty; time and time again they are filled with false hopes by quacks and charlatans who take advantage of their desperation. Ultimately nothing works, but the years of hoping and trying take their toll. Young Pierre-François protects himself from the chaos of his brother's condition with homemade suits of armor, books about long-ago heroes of war, imaginary friends and ghosts, and epic drawings that depict scenes of ferocious and violent battles. Pierre-François' artistic outlet becomes David B.'s masterpiece. The book is brilliantly drawn in heavy blacks and whites that go beyond mere representation to show thoughts, dreams, even metaphors. The characters are fully-fleshed out and true (subplots involve both sets of grandparents and their involvements in both World Wars) and the story is sophisticated and intense, making Epileptic a real work of art.
Blankets by Craig Thompson, 2003, Top Shelf Productions (Graphic Novel/ Memoir)
Young Craig and his kid brother share a bed in their attic bedroom. Sometimes their battle over who gets the biggest share of bed and blankets brings the wrath of their strict father down upon them. Fear of punishment is usually enough to end the sibling rivalry (though it's always ignited again later; boys being boys and brothers being brothers), and the siblings are often united by their mutual love of drawing and the attacks by bullies that plague them both at school. Still, this is no charmed family portrait. Craig's parents are conservative Christians who believe that their son's penchant for art will lead him down the road to hell. The boys are brought up to fear God and to feel guilt over even the smallest and most common of boyish sins. Craig is the designated high school outcast and (lucky boy) he gets to maintain that role at summer church camp too—until he meets Raina, beautiful, spiritual, kind, and complicated. The two strike up a relationship, a romance for the ages that has clearly haunted the artist Craig Thompson well into his adult life. Thompson relives his first love in poignant and painful detail accompanied by crisp, clear black-and-white drawings that are wonderfully expressive and dramatic, but never overly sentimental. In Blankets, the clash between what you're brought up to believe and what you come to believe on your own, through your own experiences, is dealt with sensitively, realistically, and with the kind of emotion that every reader can relate to.
Persepolis: The Story of a Childhood/ Persepolis 2: The Story of a Return by Marjane Satrapi, 2003/ 2004, Pantheon Books (Graphic Novel/ Memoir)
Marjane Satrapi had a happy childhood in Iran with loving parents, family, and friends. Then, at age ten, in 1979, Marjane's life was forever changed by the Islamic Revolution. Her parents are intellectuals and Marjane is well-educated at a French school, but once religious rule is established, none of that matters. At first, little Marji finds it all sort of interesting. Wearing the veil is kind of fun; it makes a good ghost mask or superhero cape on the playground. But as rules and laws become harsher and with severe--even deadly--consequences, Marji's childish innocence fades and her family realizes that little good and much danger can come from this new regime. As the years pass and the government becomes more and more oppressive, it becomes all too apparent that there is no room for even Marji's typical teenage rebellions, and that her high spirits and sense of independence are not qualities that this Iran will cherish. The two volumes of Persepolis (published as a complete book in 2007 and adapted into an Academy Award-nominated animated film) cover Marjane's childhood in Iran under fundamentalist rule and her teenage years in Europe, where she was sent at age fourteen to escape the danger that threatened educated young women. Seeing the Iran-Iraq war through a child's eyes is startling; even in the midst of witnessing kidnappings on the street and hearing about torture victims, Marji has time to long for symbols of freedom like Nike shoes and Michael Jackson records. It's a point of view that's real and accurate and that brings the consequences of war home to the reader, as well as offering a readable historical account of a war that many Americans still know little about. The adult author Marjane draws her young self in deep blacks and whites that are ideal for depicting the horrors of war, but that are still done in a style that can be light and humorous when needed. Persepolis is expressive, endearing, striking, and stirring. Almost universally appealing, this work is certain to become one of the most important graphic novels written today.