"This Journal will be devoted chiefly to the following objects; namely, Harrowing the Mind, Making the Flesh Creep, Causing the Hair to Stand on End, Giving Shocks to the Nervous System, Destroying Conventional Moralities, and generally Unfitting the Public for the Prosaic Avocations of Life." (mock advertisement in the magazine Punch
, 1863)
Queen Victoria
may have been a stuffy, conservative, stay-at-home old mum, but her royal subjects were as eager for scandal and sensation as any grocery store shopper who scans the tabloids in the checkout line today. Yes, the
Victorian era
(generally dated as 1837-1901) had a rigid class system and a major double-standard when it came to the rights of women. But its people also made a huge fuss when anyone dared to defy the rules that dictated their society. The Victorians fed their lust for drama with
Sensation Novels
, the soap operas and Wednesday night TV dramas of the Victorian age. Sensation Novels were, by name and definition, as sensational, scandalous, and melodramatic as their authors could make them. Most featured stories of genteel families plagued by such annoyances as passion, adultery, bigamy, blackmail, murder, mistaken identity, madness, miscommunication, and coincidence. Beautiful women commit serious indiscretions. Distinguished men harbor deep secrets. Lovers are separated. Friends become enemies. The good are rewarded. The bad are punished. The books sold like hot cakes.
Today, Sensation Novels still make for absorbing reading. They are the rare real guilty pleasure indulgence that also makes you smarter, because even though you're reading about the sort of astonishing coincidences and plot twists that are the stuff of soap operas, you're holding a big thick classic that was written over a hundred years ago. With ruined heiresses, damning letters, and skeletons in the closet galore, the Sensation Novel is every bit as exciting and addictive to us savvy modern readers of the twenty-first century as it was to the stodgy but scandal-craved Victorians in the nineteenth.
The Woman in White by
Wilkie Collins
, 2002, Modern Library Classics, originally published 1860 (Fiction Classics/ Mystery)
Wilkie Collins (1824-1889) is the undisputed "King of Sensation." The Woman in White is widely considered the first Sensation Novel—and no wonder. It's the tale of a poor drawing-master who meets a strange woman, clad in white, on the moonlit streets outside of London. He is soon plunged into the mystery surrounding this woman, especially when that same mystery touches the family of the young lady he loves. Along the way, there's a glorious mess of exotic villains, mistaken identities, wrongful imprisonments, and young ladies in distress. These sensational ingredients, combined with the remarkably written characters of the diabolical Count Fosco and the fiercely independent Marian Halcombe, as well as a very compelling mystery, mean that The Woman in White has never been out of print. This is a rare feat for a Sensation Novel, given that the sensational trend really only lasted a couple decades at best. The Woman in White set the tone for every Sensation Novel that would follow and sparked the public's mania for the genre.
The Moonstone by
Wilkie Collins
, 2002, Modern Library Classics, originally published 1868 (Fiction Classics/ Mystery)
Wilkie Collins achieved mainstream success, but he lived a life as sensational as his novels—he had two families with two women, neither of whom he married. The Moonstone, Collins's second great work, is also unconventional in its own way. The book tells the mystery of a rare and precious diamond stolen after the birthday celebration of a beautiful young heiress. So far, so sensational. But the structure of the story was unique and new for its time—each character adds his or her version of events in his or her own voice, and the book is credited as being the first true detective story in Western literature. The Moonstone is a masterpiece of suspense as Collins sustains the reader's unending interest in the unfolding of this single mysterious event. What's more, the solution to the mystery is about as sensational and fantastic as you can get, involving everything from sinking quicksand and exotic poisons to gossiping servants and Hindu spies. If you find yourself enthralled with Wilkie Collins, remember that he was a very prolific writer—you can indulge yourself in sensation after sensation. Some of Collins's other novels include No Name, Man and Wife, Armadale, The Law and the Lady, and Hide and Seek.
Lady Audley's Secret by
Mary Elizabeth Braddon
, 1998, Oxford World Classics, originally published 1861 (Fiction Classics)
If Wilkie Collins is the King of Sensation, Mary Elizabeth Braddon is the Queen. The "Queen of the Circulating Libraries," to be more specific, which means, in Victorian lingo, that she was a bestselling author whose books flew off the shelves. Like Collins, her private life was distinctly unconventional—for thirty years she was the partner of a man who already had a wife, albeit one who was confined to a madhouse. So perhaps it is no wonder that her stories challenge the rigid roles that restricted the Victorian woman. Lady Audley, the star of Braddon's most famed book, seems the epitome of the Victorian lady: charming, lovely, devoted, proper, and sweetly naïve--a real "angel of the house." But she has a very great, very deep secret that threatens her every attempt at happiness. Whether she'll be found out or not, and whether she deserves the reader's sympathy or not, are issues at the core of Braddon's mystery. Featuring an amateur detective who slowly and with great suspense unravels Lady Audley's mysterious past, Lady Audley's Secret became a phenomenon of its day—several on-stage adaptations became best-selling shows and some of the earliest moving pictures used the book's plot as well. Critics were shocked at Lady Audley's social transgressions, but the reading public ate the story up.
Aurora Floyd by
Mary Elizabeth Braddon
, 1996, Oxford World Classics, originally published 1862 (Fiction Classics)
With Aurora Floyd, Mary Elizabeth Braddon gave her readers another unconventional heroine who pushes the boundaries of acceptable behavior even further. Miss Aurora Floyd is an unusual character for the time—instead of being a passive, submissive Victorian lady of house and home, Aurora is a spirited, stubborn, beautiful, wealthy young woman who is determined to get exactly what she wants. What she wants, of course, is romance, passion, and to keep her dark secret hidden away from the prying eyes of those she loves. Reviewers were shocked by young Aurora's outrageous behavior, but Braddon wasn't able to completely throw off the conventions of her time—modern readers may chafe at the fact that Aurora requires male help despite her character strengths. Still, Aurora Floyd, chock full of every dramatic intrigue from seduction to murder, is a rousing, suspenseful, and ultimately pleasing entry in the history of the Sensation Novel. Braddon wrote Sensation Novels by the dozen. If you long for more of her transgressive women and domestic scandals, check out Thou Art the Man, The Doctor's Wife (Braddon's take on Flaubert's Madame Bovary), and Wyllard's Weird.
East Lynne by
Ellen Wood
, 2008 Oxford World Classics, originally published 1861 (Fiction Classics)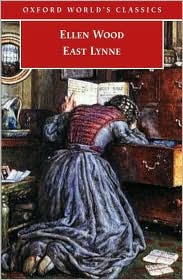 Ellen Wood (1814-1887) wrote as "Mrs. Henry Wood," giving the impression of a proper and genteel lady of the times. But her life was one of poverty and stress—a lifelong invalid, Ellen Wood married a man who went broke. Mrs. Wood took to writing to support her family, often completing two novels at a time at breakneck speed. Fortunately her first novel, East Lynne, was a runaway hit that assured her a constant place in the bestseller lists. East Lynne is the name of a distinguished manor house owned by Mr. Carlyle, an equally distinguished, kind, and steady (but rather unobservant) young country lawyer. But his life is not free of turmoil—there's a woman dear to him who falls victim to jealousy, rumor, and miscommunication and a scandalous unsolved murder lurking in the neighborhood that affects another lovely young lady. The story and characters are infinitely more complicated—a fugitive son, a harping spinster, a devoted servant, a mysterious villain—and no one is entirely without guilt or innocence. Ellen Wood's career was made with East Lynne and it was read by everyone from prince to pauper (quite literally; the Prince of Wales, later Edward VII, was a confessed fan of the book). Neglected for most of the last century, it's back in print by
Broadview Press
. With its themes of guilt, repentance, and its suspenseful atmosphere of foreshadowed disaster, East Lynne is an archetypal Sensation Novel.
Moths by
Ouida
, 2005, Broadview Press, originally published 1880 (Fiction Classics)
Moths was a later entry in the Sensation genre, which peaked in the 1860s. But its author (who, like a modern-day Madonna, Cher, or Prince, went by a single name only) was one of the most dramatic Sensationalist writers—vivid, flamboyant, glamorous, and immensely popular. Ouida Ramé was born in the humble English countryside in 1839 to a British mother and a usually-absent French father ("Ouida" is her childhood pronunciation of her given name, Louisa). Unconventional from the get-go, Ouida never wanted to be anything other than a writer. She played up her foreign background, demanded to be addressed as "Madame Ouida de la Ramé, and flaunted society's rules. She smoked cigars with men, spoke "unladylike" language, and lavishly pampered her pets. She quickly achieved celebrity status, which only made her books sell better. Moths is the story of Vere Herbert, pure and beautiful and not at all made for the frivolous world that her heartless mother Lady Dolly (and their own author Ouida) lives in. Vere is more or less sold in marriage to a cruel Russian prince, and she can't help but remember a summer morning spent with a kind, wise opera tenor named Correze… Moths's treatment of marriage was controversial, but the melodramatic plot made it an immediate bestseller. Ouida died in 1908, penniless and surrounded only by her beloved pet dogs, and her novels have been almost completely lost to modern readers. Once you dive into the exotic locales and scandal-making characters of Moths, however, you won't soon forget it--or its glamorous authoress--again.
Uncle Silas by
Sheridan Le Fanu
, 2006, Nonsuch Classics, originally published 1864 (Fiction Classics)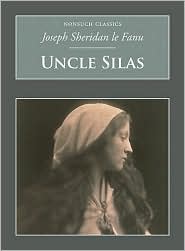 Young, naïve, and eager to please, Maud Ruthyn lives a sheltered life--but she's no stranger to horror, mystery, and suspense. She's in awe of her aristocratic father, her manor home is secluded deep in the English countryside, and her lonely lifestyle has made her sensitive and superstitious. But it's her new governess, Madame de la Rougierre, who really makes Maud nervous. Madame is a strange, freakish woman with a secretive past who delights in terrifying, bullying, and spying on Maud. Thanks in part to her one true ally, her cousin Lady Knollys, Maud is eventually freed from Madame's tyranny—only to be plunged into an even darker and more disturbing life with her mysterious (and maybe murderous) Uncle Silas. The suspense builds as mysteries pile up and sinister forces surround Maud until she is little more than utterly helpless. Sheridan Le Fanu (1814-1873) grew up in Ireland listening to folktales, myths, and dark Gothic tales. His early writings were ghost stories; he even wrote a chilling novella about a vampire, Carmilla. But to maximize his appeal to English audiences, Le Fanu toned it down and turned his penchant for horror into the sensational—with a touch of the supernatural thrown in for good measure. Uncle Silas's unique blend of ghostly, Gothic, and Sensational styles makes it a suspenseful psychological thriller that's way ahead of its time.
The Mystery of Edwin Drood by
Charles Dickens
, 2002, Penguin Classics, originally published 1870 (Fiction Classics)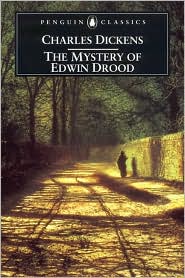 Charles Dickens was the penultimate Victorian writer. His books have gone from bestsellers in his day to classics of Western literature in ours. Dickens knew Sensation very well—he was acquainted with many Sensation writers (Wilkie Collins was an especially close friend and sometime collaborator) and many Sensation novels were serialized in the magazines edited and operated by Dickens. There have always been elements of the Sensation in Dickens's works, from orphans to insanity to outrageous coincidence; the melodramatic, after all, was a staple of Victorian literature. But Dickens never wrote an actual Sensation Novel. The closest he came was his final, unfinished novel, The Mystery of Edwin Drood. Dickens's novels had been getting darker for some time, but with Mr. Edwin Drood there was to be murder, deception, jealousy, and addiction. The story takes place in a seemingly benevolent small town; the central character is the seemingly benevolent John Jasper. But in private, Jasper is an opium addict and almost another man—a bitter, tortured man whose jealousy of his nephew, Edwin Drood, overwhelms him. When Dickens died in June 1870, he was working on the sixth installment of The Mystery of Edwin Drood. The plot had been established; characters had been fully developed. In fact, all that really remained was the discovery of the solution to the mystery. In other worlds, readers are left with a permanent cliff-hanger. Even in its unfinished state, The Mystery of Edwin Drood is a gripping story that not only solidifies Dickens' place as one of the finest writers of all time, but assures us that he would have made a damn good Sensation novelist to boot.
Victorian Sensation Or, the Spectacular, the Shocking, and the Scandalous in Nineteenth-Century Britain by Michael Diamond, 2003, Anthem Press (Nonfiction/ British History/ 19th Century)
Critical studies about the Sensation Novel are few and far between. But Victorian Sensation has a whole big fat chapter (complete with illustrations) devoted to the scandalous fictional affairs of wicked Count Fosco, daring Marian Halcombe, treacherous Lady Audley, dashing Aurora Floyd, complacent Archibald Carlye, and more (including Charles Reade, a sensational and popular author whose books are very hard to find today). Victorian Sensation really proves how much Sensation Novels flavored Victorian life—there were songs and dances based on characters by Wilkie Collins ("The Woman in White Waltz"), and Mary Elizabeth Braddon ("The Aurora Floyd Galop"), and theatrical presentations of Lady Audley, The Moonstone, and the very popular East Lynn. We inherited our present obsession with pop culture from the Victorians, so it's refreshing to read about a population of people that ate up news about serial killers, would-be assassins, circus freaks, opera stars, and of course, the royal celebrities. Author Michael Diamond (an author, editor, and producer for the BBC) tackles an extensive subject with a passionate interest to present a lively, interesting, and very readable history of sensation.
Note: The Victorian era was a long time ago. Many of these books are in limited printing and are difficult to find. Remember to check your local library, independent bookstore, and when all else fails, used copies are readily available from a wide variety of online booksellers for very reasonable prices. Or ask me, and I'll lend you one from my own extensive (and somewhat obsessive) collection.