Film versions of favorite books don't always live up to our expectations or our imaginations. The casting doesn't match the character we see in our mind's eye; the plot is abridged and our favorite scenes are left out or condensed; the author's subtle sense of humor or mystery is lost. But there are exceptions to this rule. Quaint, old-fashioned, little-known books very often more than make the grade. The characters and stories in these novels are too charming; their essence cannot be distilled. Cinematic attention only brings out the best in the book, and the resulting union of screen and page results in a delightful film. The book and the movie become enchanting and enjoyable companions for movie-goers and book-lovers alike.
Cold Comfort Farm by Stella Gibbons, 2008, Penguin Classics, originally published 1932 (Fiction Classics)
Cold Comfort Farm directed by John Schlesinger, 1995, Universal Studios, starring Kate Beckinsdale, Eileen Atkins, Stephen Fry (Period Piece/ Romantic Comedy)
Flora Poste is an elegant, sophisticated young lady living in glamorous London in the 1930s. She's also an orphan, and her determined sense of order demands that she put her good taste to work and find a new branch of the family to fix. She settles on the oddest bunch she can find—an aunt, uncle, and cousins who live deep in the country on Cold Comfort Farm. Armed with her journal, several issues of Vogue magazine, and a tall pair of rubber boots, Flora sets out to drag Cold Comfort Farm into the modern fashionable age. This act of generosity proves a bit more challenging when Flora finds herself confronted with an over-sexed, moving-picture-obsessed cousin; an uncle who preaches until his congregation literally quivers in Fear of the Lord; a poetry-writing, free-spirited young sprite who's in love with the dashing lord next door; and a great aunt who's "seen something nasty in the woodshed." A parody of the earthy, melodramatic novels of D.H. Lawrence and Thomas Hardy, Cold Comfort Farm is, quite simply, hilarious. The 1995 film version (starring Kate Beckinsdale as the no-nonsense, never-give-up Flora) wonderfully captures Gibbons' sense of the odd, the eccentric, and the absurd, and genuinely brings the page to life.
A Room with a View by E.M. Forster, 2000, Penguin Classics, originally published 1908 (Fiction Classics/ Romance)
A Room with a View directed by James Ivory, 1986, Merchant & Ivory Pictures, starring Helana Bonham Carter, Julian Sands, Daniel Day-Lewis, Maggie Smith, Judi Dench, Denholm Elliot (Period Piece/ Romance)
Edwardian England was a prim and proper era with little time for the real passions of real people. But when young Lucy Honeychurch has a romantic encounter with George Emerson (the son of a free-speaking Socialist—shocking!) in a flower-filled field in Italy, she faces precisely that dilemma—follow convention or follow her heart. Back home in England, surrounded by her charming and well-meaning family and neighbors, Lucy attempts the proper path and engages herself to the very prim Cecil. Less-than-satisfied but encouraged by her spinster aunt, Lucy's orderly world is thrown into disarray when George reappears in her life. A Room with a View features some of the most delightful characters in literature—the outlandish lady writer Eleanor Lavish, the ultimate snob's snob Cecil, the truth-speaking clergyman Mr. Beebe, and the primmest and proper-est spinster Aunt Charlotte. These characters are cast to a tee in the 1986 film adaptation which stars some of the day's great actors, including Judi Dench, Maggie Smith, and Daniel Day-Lewis. The scene where George Emerson meets Lucy's brother Freddy is priceless—few films these days feature grown men skinny-dipping in a very small pond…
Miss Pettigrew Lives for a Day by Winifred Watson, 2008, Persephone Books, originally published 1938 (Fiction Classics, Romance)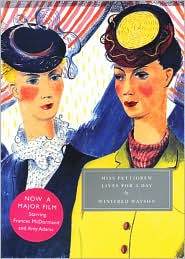 Miss Pettigrew Lives for a Day directed by Bharat Nalluri, 2008, Universal Studios, starring Frances McDormand, Amy Adams, Ciaran Hinds, Lee Pace, Shirley Henderson, Tim Potter (Period Piece/ Romantic Comedy)
When the film version of Miss Pettigrew Lives for a Day was released in 2008 and a new edition of the book was printed, one critic wrote, "Why has it taken more than half a century for this wonderful flight of humor to be rediscovered?" That critic had a point—Winifred Watson's captivating tale of how the middle-aged, out-of-touch, ex-governess Miss Pettigrew spends a glamour-filled day with the fetching but flighty nightclub singer Delysia La Fosse is a story most of us have never heard. Pre-World War II London is full of flash and glitter, Delysia's many entanglements with men are dizzying, and we enjoy the surprises, triumphs, and revelations of the day right along with the wonder-filled Miss Pettigrew. The movie that put this little book back on the map is a fine adaptation starring Frances McDormand as Miss Pettigrew and Amy Adams as Delysia. Some of the action in the book is toned down for the film (references to drug use, such as they are, are deleted) and the romance is played up, but both the film and book are sure to brighten up any day.
The Princess Bride: S. Morgenstern's Classic Tale of True Love and High Adventure, The "Good Parts" Version, Abridged by William Goldman, 2003, Harcourt Books, originally published 1973 (Fiction/ Teen Fiction/ Adventure/ Romance)
The Princess Bride, directed by Rob Reiner, 1987, MGM Studios, starring Cary Elwes, Robin Wright, Mandy Patinkin, Andre the Giant, Wallace Shawn, Chris Sarandon, Christopher Guest, Peter Falk, Fred Savage (Action/ Adventure/ Romantic Comedy)
Most of us know The Princess Bride best as swashbuckling action-adventure romantic comedy movie from the 1980s. But first The Princess Bride was a book, and that book is just as swashbuckling and even—if you can believe it—funnier than its big screen counterpart. This is in part because the book's author, William Goldman, also wrote the screenplay. Goldman frames the book as an abridged version of an old classic by a certain long-winded S. Morgenstern. So Goldman presents the "Good Parts" version, skimming over the supposedly boring (but actually very funny) historical bits and getting right to the good stuff—the adventure of Buttercup and her farm boy Westley. The road to true love is never smooth, and Buttercup and Westley are up against a prince, a pirate, a genius, and a giant—not to mention a drunken swordsman, a six-fingered man, and a species of rodent of unusual size. The Princess Bride is Goldman's baby from start to finish, and his unique brand of witty humor translates equally well to page and to screen. The film has a narrative frame of a grandfather reading the story to his grandson, home sick in bed. The book goes a step farther—Goldman writes himself into his own book through the notes to the abridgment and becomes as active a character as Westley or Buttercup. Fact and fiction mix for a unique tongue-in-cheek reading experience. And still, of course, there's the classic Princess Bride story, the real stuff of fantasy, adventure, and legend: "Fencing. Fighting. Torture. Poison. True love. Hate. Revenge. Giants. Hunters. Bad men. Good men. Beautifulest ladies. Snakes. Spiders. Beasts of all natures and descriptions. Pain. Death. Brave men. Coward men. Strongest men. Chases. Escapes. Lies. Truths. Passion. Miracles…"
Northanger Abbey by Jane Austen, 2008, Vintage Classics, originally published 1817 (Fiction Classics, Romance)
Jane Austen's Northanger Abbey directed by Jon Jones, 2007, WGBH Boston Studios/Masterpiece Theater Presents, starring Felicity Jones, J.J. Field, Carey Mulligan, Catherine Walker, Liam Cunningham, Sylvestra Le Touzel, William Beck (Period Piece/ Romantic Comedy)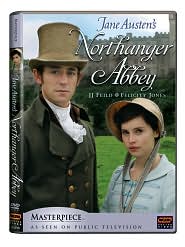 Northanger Abbey is probably Jane Austen's least-known novel. It was published after Austen's death in 1817, but it was written in 1799 and was in fact her first complete novel. The story of Catherine Morland's introduction to society, her many blunders, and her overactive imagination is usually noted for its parody of the Gothic literature that Catherine obsessively reads. But Northanger Abbey is also a very sweet little romance. Jane Austen is at her most clever and wry in this slim novel and she writes one of her most charming and funny heroes in Henry Tilney, who teases and laughs where Mr. Darcy, Edward Ferrars, or Mr. Knightley would only glower, sulk, or lecture. Northanger Abbey is the only Austen novel that Hollywood has overlooked, but there have been film versions made for television. The most recent—and far and away the most pleasing—is the production that aired as a Masterpiece Theater presentation on Public Television in 2007. Masterpiece Theater is notoriously professional and accurate in their book adaptations so every nuance of Austen's little masterpiece is distinguished. J.J. Field and Felicity Jones play the witty Tilney and the charmingly naïve Catherine to perfection, and the ending is exceptionally sweet. If you're an Austen lover, don't forget about Northanger Abbey in either of its engaging forms.
The African Queen by C.S. Forester, 2000, Little, Brown & Co., originally published 1935, (Fiction Classics, Adventure/ Romance)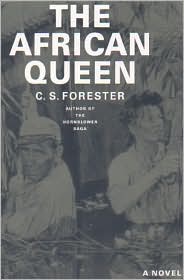 The African Queen directed by John Huston, 1951, Warner Bros./MGM Studios, starring Humphrey Bogart, Katherine Hepburn, Theodore Bikel, Walter Gotell, Richard Marner (Black and White Classics/ Adventure/ Romance)
You might know The African Queen as an excellent old movie starring Humphrey Bogart and Katherine Hepburn. This is the book that film is based on, and it's every bit as good--even without Bogie and Kate. They play the characters of Charlie Allnutt and Rose Sayer, a burned-out trader with a beat-up old steamboat and a stern, no-nonsense missionary's sister. Rose is indignant with anger at the World War I German threat to the British way of life (even in the heart of the African jungle), and Mr. Allnutt is the hapless fellow who gets roped into her outrageous plan. But first, they have to get their boat, the African Queen, down the river past rapids, waterfalls, malaria-ridden swamps, and German outposts. They also have to get to know each other—alone, in the jungle, on a rickety old boat. C.S. Forester knows boats and adventure, and what's more, he knows character, dialogue, and human nature. The 1951 film is best-known for the performances of Hepburn and Bogart (who won the Oscar for best actor) and they are excellent as Rose and Allnutt, whether wading through swamps or nursing each other's wounds. The film was shot on location in Africa, and remains as good as an adventure and romance as the book it was based on. Another link between the page and the screen is Katherine Hepburn's funny little 1987 memoir, The Making of The African Queen, or How I went to Africa with Bogart, Bacall and Huston and Almost Lost my Mind.
M*A*S*H by Richard Hooker, 1997, Harper Perennial, originally published 1969, (Fiction/ Humor)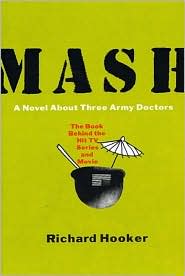 M*A*S*H directed by Robert Altman, 1970, Twentieth Century Fox Studios, starring Donald Sutherland, Elliott Gould, Tom Skerritt, Sally Kellerman, Robert Duvall (Comedy)
Hawkeye, Duke, Trapper John, Hot Lips Houlihan, Frank Burns, Radar O'Reilly—we know them best from the long-running, much-loved M*A*S*H television show. But these characters first appeared in the pages of a 1969 novel by Richard Hooker (pseudonym for H. Richard Hornberger, a real life army doctor turned writer). Pranks, jokes, minor rebellions, and martinis abound as the doctors of this Korean War Mobile Army Surgical Hospital cope with meatball surgeries on young soldiers who arrive via helicopter fresh from the front lines. The book features a few of the more risqué escapades that didn't make it to film or TV, the least of which features Trapper John signing autographs as Jesus. Robert Altman's 1970 film is a masterpiece of comic dialogue and situation comedy that paved the way for the M*A*S*H television series (the actor who played Radar in the movie reprised the same role for TV). Whether fixing football games, mixing martinis, or generally raising hell, the surgeons of the 4077th M*A*S*H are irreverent, disarming, and heartwarming on page and on screen. M*A*S*H takes places decades later than the other books on this list, but it's got the same mix of charming characters and delightful humor that make these books and films classic companion pieces for the movie theaters and the library.