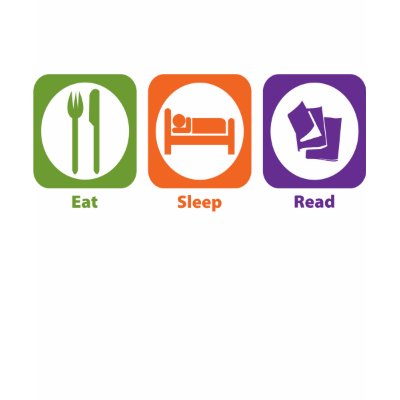 Sometimes you'll see athletes wearing t-shirts that say something like, "Eat, Sleep, Run." If you're a bibliophile, your shirt (or more likely your book bag) says "Eat, Sleep, READ." You have stacks of books in your home. You never go anywhere without a book. Eating and sleeping are indeed biological requirements that you fulfill solely so that you can read more books. In other words, you love books and you love to read. And you're not alone. There are millions of bookworms out there, some more obsessed than others, but all with an irresistible urge to buy books, collect books, and/or read books. And bibliomaniacs will be pleased to know that there is any number of writers who delight in similar book obsessions and write intelligently and lovingly about them. Fiction, nonfiction, memoirs, essays, scholarly tomes—no genre is untouched by lovers of books. You'll come away from this list of books about books knowing full well that these rules of reading are true-blue: Everyone reads in different ways for different reasons. Every book has its reader; that reader may or may not be you. You don't have to finish every book you read. You don't have to read every book you buy. And never, ever be embarrassed by what you read. If you love it, read it. End of story.
A History of Reading by Alberto Manguel, 1997, Penguin Books (Nonfiction/ Literary History)
Noted Argentine writer Alberto Manguel takes us on a journey through time and geography to explore a single topic: reading. Whether ancient tribesmen are reading the pictures they've drawn on cave walls or you are reading this paragraph, reading—which Manguel defines as interpreting the meanings of signs or symbols—is something every human can do. And the history of reading is fascinating. Manguel does not tell this history from start to end; he jumps around in time and leaps across continents, telling an anecdote here or a explaining a myth there. From Princess Enheduanna, one of the very few women to read in 2300 B.C. Mesopotamia, to acclaimed author Jorge Luis Borges, who Manguel himself read to when the writer went blind, Manguel shares the lives of the world's readers. He explores the role of libraries throughout the ages. He profiles great authors and writers. Most of all, Manguel celebrates how every individual reader recreates the written word with his or her own unique experiences and imagination. Filled with photographs and illustrations that highlight ancient and modern readers alike, A History of Reading is an illuminating look at the deceptively simple act of reading.
Ex Libris: Confessions of a Common Reader
by
Anne Fadiman
, 2000, Firrar, Straus and Giroux (Nonfiction/ Essays)
Anne Fadiman is a column writer, a journal editor, and an award-winning author. She's also a life-long reader, and that means more than all her other scholarly accomplishments in this collection of her eighteen essays that pay tribute to the love of books and reading. Fadiman writes about how you're not really married to someone until you combine book collections. She muses on how reading the same book at different points in your life can change what the book means to you. She goes into raptures over secondhand bookstores and lovingly critiques the best (and worst) inscriptions people write when they're giving books to others. She chronicles the difficulties of being both a lover of sesquipedalians (long words) and an obsessive-compulsive proofreader. Fadiman is intelligent and passionate about books and her essays are written with a graceful elegance of style that will charm every kind of reader under the sun. In Fadiman's hands, reading becomes an art that is to be honed and nurtured over a lifetime. Fadiman's life is healthier, richer, funnier, and more rewarding because of her love of books, and that about sums it up for all us bookworms out there.
The Polysyllabic Spree by Nick Hornby, 2004, Believer Books/ McSweeney's Press (Nonfiction/ Essays)
Nick Hornby tapped into the minds of the rock-n-roll obsessed in his novel High Fidelity. He wrote about the all-consuming passion for soccer in his memoir Fever Pitch. Hornby also writes about another obsession in the British magazine Believer—his own obsession with reading. As long as you're a reader of books you'll find something to love in this collection of Hornby's columns from September 2003 to November 2004. Each month, Hornby begins by listing books bought and books read. Then he writes (chats, really) about what he bought and what he read and what he thought about the lot. Hornby doesn't read every book he buys. He doesn't finish every book he begins. He wishes biographers didn't feel the need to detail every moment of their subject's lives—it would spare the reader a couple hundred pages. He's also routinely distracted from his reading by his children, his soccer team, the pub, and a generous supply of amusing anecdotes. In other words, he's a reader just like the rest of us—he loves to read but he's got a life that sometimes gets in the way. Warm, witty, informative and irresistible, Hornby's essays are for the bibliophile in all of us. There are two more collections of Hornby's Believer columns, Housekeeping vs. the Dirt published in 2006 and 2009's Shakespeare Wrote for Money.
Reading in Bed: Personal Essays on the Glories of Reading
edited by Steven Gilbar
, 1995, David R. Godine Books (Nonfiction/ Anthologies/ Essays
In this anthology, avid reader Steven Gilbar collects essays from other avid readers. These other readers are also writers--some of the best writers in history--which makes Reading in Bed some of the most elegant and delightful writing about reading there is. The essays are presented chronologically; Reading in Bed can be read from start to end or dipped into from time to time. Thomas Wentworth Higginson
assures us that the books on our shelves that we haven't read are just as important as the books we have. Clifton Fadiman
discusses the best kind of book to read in bed before falling asleep. Graham Greene
loves best the books he read in his childhood; Robertson Davies
cherishes the books from adulthood. Harold Brodkey
compares reading a good book to having a love affair. You may not be very familiar with these authors or even know who they are (though Gilbar thoughtfully includes brief notes about his contributors so you can get to know them), but you will know exactly what they're talking about. Because even though these writers are great and esteemed, they're also everyday readers and lovers of books, just like the rest of us.
The Uncommon Reader: A Novella by Alan Bennett, 2007, Farrar, Straus, and Giroux (Fiction)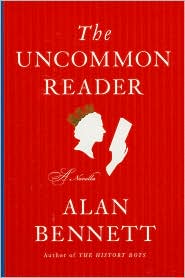 One day at Buckingham Palace, Queen Elizabeth II finds her runaway royal doggies gathered around a bookmobile that has come to deliver books to the kitchen staff. The Queen reads books, of course, but not actively or with any real sense of purpose—she does, after all, have Other Things To Do. But when she feels obligated to make a selection from the bookmobile, she's quite surprised to find that reading is enjoyable. The Queen finds herself interested, roused, even impassioned. This is a woman who does nothing by halves; with the assistance of her kitchen-boy-turned-page Norman, the Queen becomes an avid devotee of literature. And the English people find themselves with a royal bookworm on their hands. The consequences are intriguing, to say the least. Author Alan Bennett is a gifted comic writer who pokes gentle fun at the rigidly ruled world of the British monarchy and all its antiquated mannerisms. But he writes Queen Elizabeth as a compelling character—an aging woman of great social and political power who still possesses the surprising ability to change and the desire to improve. For all the fun The Uncommon Reader has with its royal premise, the story is less about the power of the throne than it is about the power of the written word. This is a sly little what-if tale, a fairy tale about a real person that all book lovers--royal or commoner--will relish.
Parnassus on Wheels
by
Christopher Morley
, 2008, BiblioLife Press, originally published 1917 (Fiction)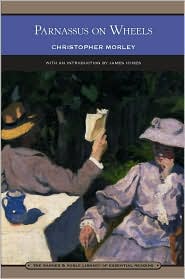 Roger Mifflin is a travelling book salesman who, while small and a bit funny-looking, is confident that "When you sell a man a book, you don't sell him just twelve ounces of paper and ink and glue, you sell him a whole new life." This is news to spinster Helen McGill, who has little to do with books on her brother's farm. But cooking and cleaning for her brother is distinctly lacking in delights, and on a whim that surprises herself most of all, Helen jumps onboard Mifflin's traveling wagon full of books and finds herself smitten with the man's philosophy of bookselling as a duty and an art—and just maybe smitten with the man as well. Mifflin uses his characters to expound his own theories about the tremendous joys of book reading, and as readers, we're simply delighted to let him do so. There's a sequel, The Haunted Bookshop, that not only furthers the lives of the Roger Mifflin and Helen McGill, but also offers more opportunities to demonstrate how influential and powerful books can be. Parnassus on Wheels was written nearly one hundred years ago and the sweet little tale of book love has well withstood the test of time. It is, after all, a romance between people and books as well as a romance between people.

Biblioholism: The Literary Addiction (Revised Edition) by Tom Raabe, 2001, Folcrum Press (Nonfiction/ Humor/ Self-Help)
If the above list of books has not yet convinced you of your own bibliomania (and why else would you pour over such a list if you did not share the same love of books as these authors?), then Biblioholism is the book for you. Diagnosing biblioholism as "the habitual longing to purchase, read, store, admire and consume books in excess," the book presents itself as a self-help guide for the book addict. It has a wicked sense of humor about this approach, meaning you'll chuckle over the biblioholic's far-flung obsessions and quirks (which range from being finicky about what you read to being picky about where you read to being ferociously particular about the single acid-free slip of paper that must be used as a bookmark) even while admitting their truth. With comical quizzes to determine your level of addiction and a section on cures (any takers for "total abstinence" from all things book?), this is a gleeful look at the lives and loves of the book addict. First published in 1991, the 2001 Revised Edition includes extended information on the cures that the Internet can offer in the form of ebooks, book downloads, and online booksellers—if, that is, you want to be cured. Otherwise go back to the beginning of this list and indulge in book love all over again.