Just about every other day, it seems, some villain, curse, or disaster threatens the destruction of the world as we know it (or a world anyway, since of course there are any number of parallel universes and worlds besides our own). We usually don't hear of these impending apocalypses because some clever child has gotten there first. With the help of family/ friends/ talking animals/ wizards/ fairies, that kid saves the world. These hero-children don't always seem especially extraordinary. They're poor, perhaps even orphans; they have no one to turn to except maybe a couple of rag-tag friends or siblings. If they're really lucky, they can band together with other seemingly-ordinary-but-actually-heroic kids and form a group of day-saving youngsters. But whether it's an individual effort or a team of the courageous, whether it's our own world in jeopardy or a fantastic Other Land, these kids have secret strengths that make them ideal heroes when it comes time to battle the forces of evil (whatever they may be) and save the world. Many of the books on this list are the first in a line of series, because--obviously--the world needs to be saved over and over again.
The Lion, the Witch, and the Wardrobe by
C.S. Lewis
, 2000, Essential Modern Classics, originally published 1950 (Children's Fiction/ Fantasy)
Not only was C.S. Lewis one of the first to fling everyday children into a fantasy world and let them to save the day, he's still one of the absolute best. It's really quite perfect—four ordinary children literally open a door to a magical, faraway world. Peter, Susan, Edmund, and Lucy are sent to a rambling country mansion to wait out the London bombing raids of World War II. One day they play hide-and-seek, and Lucy hides in a big empty wardrobe that is not at all what it seems to be. It is, in fact, a magical passage into the world of Narnia, a land where animals talk, the spirits of trees walk, and a golden lion named Aslan rules all. At least, that's the way things should be in Narnia, but just now the land is under the thumb of the evil White Witch, whose hundred-year curse makes it always winter but never Christmas. When Lucy leads her brothers and sister into Narnia, she sparks a fantastic adventure of belief, betrayal, and talking beavers. This is the first book in the ever-popular Chronicles of Narnia (though it takes place second in the internal chronology of the series) and the adventures continue in six other books, which have remained immensely popular for generation after generation. Whether you're stepping through the Wardrobe for the first time or the fiftieth, you will never forget saving the wonderful world of Narnia with Peter, Susan, Edmund, and Lucy.
A Wrinkle in Time by
Madeleine L'Engle
, 2007, Square Fish Books, originally published 1962 (Children's Fiction/ Fantasy)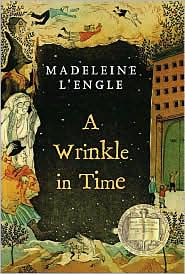 Meg Murry's little brother Charles Wallace is a misunderstood child genius. Meg is just an awkward teenage misfit--impatient and stubborn and angry about it to boot. Meg is also missing her father, who disappeared on top-secret government work and, on this particular dark and stormy night, Meg is also dealing with a very odd stranger who's been blown off course and taken shelter in the Murry's kitchen. The visitor is Mrs. Who and she's here to lead Meg, Charles Wallace, and their neighbor Calvin O'Keefe (as popular in school as Meg is plain) on a journey to find Mr. Murry and restore him to his family—an act which will, in its own way, restore a much-needed sense of balance to the world in which the Murrays live. This journey will take the young trio through space and time by means of a tesseract—a wrinkle in the fabric of time—which, to put it mildly, is a unique way to travel. A Wrinkle in Time is fantastic science fiction. It's about time travel, dystopian societies, family, romance, and the good old-fashioned struggle to grow up. Madeleine L'Engle won the Newbery Medal for her book, the first of a quintet about the Murry family and their various sci-fi travels. The series quickly became classics, but A Wrinkle in Time remains the best-known and best-loved of L'Engle's books. This is because Meg is a prickly, realistic teenage heroine with a sympathetic family, Mrs. Who and her companions (Mrs. What and Mrs. Which) are delightfully quirky, and their adventure is ultimately about recognizing your flaws, turning them into strengths, and accepting yourself for who you really are.
Good Omens by
Neil Gaiman
and
Terry Pratchett
, 2006, William Morrow Books, originally published 1990, (Fiction/ Teen Fiction/ Fantasy/ Humor)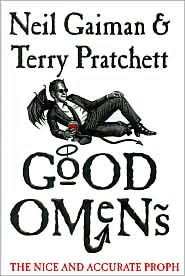 No kidding around this time; the world is about to end. This is the real Apocalypse we're talking about. Armageddon is scheduled for next Saturday, actually, according to the Nice and Accurate Prophecies of Agnes Nutter, fifteenth century Witch and fortune-teller. But there are a few kinks in the plan. The ancient rivals of Good and Evil have decided that the end of the world would seriously cramp their lifestyles. Besides, they like the human race. The charmingly clumsy Newton Pulsifer has been recruited to the witch-hunting profession and finds himself smitten with a so-called "occult professional" who is, in fact, the lovely descendent of the aforementioned Agnes Nutter. The Four Horsemen of the Apocalypse ride motorcycles. But the biggest obstacle to the end of the world is the Antichrist—an eleven-year-old boy quietly making mischief in the English countryside. Young Adam has grown up with a vague sense of purpose and power, and even his rough-and-tumble pack of best friends and his devoted pet dog (who's really a Hound of Hell) can't predict what Adam will do when the forces of Heaven and Hell collided. This farcical book is a collaboration between two of the top fantasy writers today, Neil Gaiman and Terry Pratchett, and their blend of wry sci-fi and dark humor make for a hilarious, devious read. Adam is the calm around which the chaotic, comic mess of Good Omens centers, which makes it more than a fun book to read. It makes Good Omens a clever, irreverent satire that proves the simplest answer is often the best.
Summerland by
Michael Chabon
, 2002, Miramax Books/ Hyperion Books (Teen Fiction/ Fantasy)
Ethan Feld plays Little League baseball at the Summerlands, a little peninsula of land where the weather is perfectly idyllic year-round (though Ethan's game doesn't match the climate—he holds the team record for most errors and fewest hits). The Summerlands also provides a link between our world and other worlds, and it is through this path that the trickster Coyote creeps to kidnap Ethan's inventor father. Much to Ethan's surprise, he is recruited by the Ferishers, the fairy-like tribe of baseball-loving beings who dwell secretly in the Summerlands, to be their own personal hero and save them from Coyote's schemes. Ethan collects a motley crew of companions along the way--including a wise werefox, a lonely Sasquatch, and his teammates Jennifer T. and Thor Wignutt--and ends up playing the game of his life against Coyote's band of ghouls. More is at stake than the Ferishers' right to their homeland or even Mr. Feld's life. The fate of the world rests in the baseball bat and glove of young Ethan, worst baseball player in the history of the game. A creative and complex fantasy from award-winning and highly versatile author Michael Chabon, Summerland is infused with adventure, American mythology, and the grand game of baseball.
The Mysterious Benedict Society by
Trenton Lee Stewart
, 2007, Little, Brown and Co. (Children's Fiction/ Mystery)
"Are you a gifted child looking for special opportunities?" This unusual newspaper ad catches the eye of an especially observant and inventive orphan named Reynie Muldoon. It also catches the eyes of ready-for-adventure Kate Wetherall, brainy and sensitive George "Sticky" Washington, and very contrary little Constance Contraire. The children pass a series of tests for the mind and spirit and are recruited by the philanthropic Mr. Benedict. Their mission: infiltrate the Learning Institute for the Very Enlightened, a school run by the brilliant but dastardly Ledroptha Curtain. Mysterious messages are issuing forth from the school to brainwash the unsuspecting population, and Reynie, Kate, Sticky, and Constance need to combine their unique talents and skills to save the day. The reader gets to follow clues and solve puzzles right along with the kids for a reading experience that is interactive, exciting, and thoughtful. Reminiscent of Roald Dahl and Lemony Snicket's stories of clever orphans, The Mysterious Benedict Society is as rich in real-life issues as it is in character detail, suspense, and surprises. There are two sequels, 2008's The Mysterious Benedict Society and the Perilous Journey and the soon-to-be-released The Mysterious Benedict Society and the Prisoner's Dilemma.
Gregor the Overlander by
Suzanne Collins
, 2003, Scholastic Press (Children's Fiction/ Fantasy)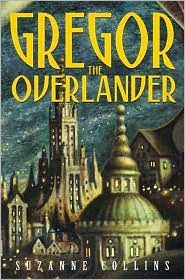 Gregor is a kid with all the responsibilities of an adult and few of the perks. He has little to look forward to except a summer babysitting his little sister and his senile grandmother while his mother works all day to make ends meet. But when his precocious baby sister, Boots, slips down a vent in the laundry room, Gregor dives down after her and finds himself in a magical world deep beneath the streets of the city. This sunless land is populated by pale humans with bright eyes and oversized talking animals—spiders, bats, cockroaches, and the bad guys of the underworld realm, rats. Gregor just wants to go home, but a prophecy that an "Overlander" will save the day and rumors that his father (who disappeared years ago) might be held captive by the rats, keeps Gregor underground. He sets out to find his father with a group of Underland royalty and their majestic bats, two cockroaches who dote on little Boots, and a sly warrior rat who is leading the way—or betraying Gregor's group to the other cruel rats who hunt them. Gregor is a reluctant hero, but his determined sense of right and wrong gives him an edge that few others have. Gregor the Overlander is an atmospheric, compelling fantasy that matures as the story evolves and Gregor faces more challenges. This is the first of Suzanne Collins' Underland Chronicles, a series of adventures starring Gregor and his otherworldly friends.
The Neverending Story by
Michael Ende
, 1997, Dutton Books, originally published 1979 (Children's Fiction/ Fantasy)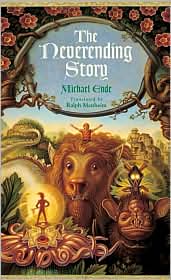 Bastian, Atreyu, the Childlike Empress—if you're a child of the 80's, these names instantly mean one thing: The Neverending Story. This was a huge hit
movie
in 1984, and if you're feeling nostalgic, you're in luck. Because once upon a time in Germany, The Neverending Story was a book. And with the re-issue edition of 1997, oh what a pretty book it is. Red ink for Bastian, scolded and bullied, who hides in the attic at school with a stolen book that quickly becomes the most important thing he's ever done in his short lonely life. Green ink for Fantastica, the magical world that Bastian is reading about, where the Childlike Empress's mysterious illness is causing a terrifying Nothingness to sweep across the land, a nd where all hope rests on the slim shoulders of the brave boy Atreyu. It's rare to read such a colorful book (literally colorful with those different inks, and with fairy tale-style
illustrations
as well) and it's rare to indulge so fully in the act of reading. We read not only about Bastian but about what Bastian is reading, a delightful circle that compliments the Neverending title. Saving a fantastic mythical world has never been such an interactive, collaborative experience. And if that doesn't get you reading, just think back to the movie and remember how much you wanted to ride on that big pink
luck dragon
.
Harry Potter and the Sorcerer's Stone by
J.K. Rowling
, 1997, A.A. Levine Books (Teen Fiction/ Fantasy)
As if any list of child-heroes could be complete without
Harry Potter
! Young Harry is, without a doubt, the most popular kid to ever stumble into a fantasy world. Harry Potter and the Sorcerer's Stone is an eye-opening adventure for the reader as much as for Harry. Harry is an orphan living with his heartless aunt and uncle. But Harry's mundane existence is about to change completely. As his eleventh birthday approaches, Harry's home is inundated with letters written in emerald ink and delivered by swooping owls. These are invitations for Harry to attend Hogwarts School of Witchcraft and Wizardry. That's right, Harry is a wizard-in-training, the son of very talented magical parents who were killed by the very bad Lord Voldemort when Harry was just a baby. Harry miraculously survived the attack, and Voldemort hasn't been seen since. But now as Harry is immersed in the thrilling world of magic, whispered rumors of Voldemort's return begin to be heard. Now Harry has a role to play and a destiny to fulfill as all the mysteries and secrets of his history are revealed. Filled with astonishingly imaginative details and delightfully original characters (human and mythical alike), this first stage of Harry's enchanting seven-book journey to rid the world of evil Lord Voldemort--and find himself along the way--is absolutely certain to delight, charm, chill, and intrigue readers from age eight to eighty. With the Harry Potter series, J.K. Rowling creates one of the most richly crafted fantasy worlds in literature. You just can't read about Harry too often.