A true-blue swashbuckler takes place in the good old days when gentlemen proved their honor at the tips of their swords. All you needed was a steady blade, a fine set of
mustachios
, and a devastating effect on the ladies to be a genuine swashbuckler. Bravery, romance, justice and revenge were the order of the day. Soldiers, swordsmen, and spies vied for riches, glory, and fame. These are the original adventure stories, action-packed all the way. There's often a sense of humor to a swashbuckler, a tongue-in-cheek tone combined with a narrative tendency to cheerfully fling heroes into all sorts of messes and scrapes and expect them to emerge ready for more. No one actually swashes a buckle in a these books (the definition of a swashbuckler is "a swaggering or daring soldier or adventurer"), but still, we're talking about champions rescuing damsels in distress with astonishing acts of derring-do—in other words, real high adventure stuff. Whether the tone is as light the feather in a soldier's hat or as dark as a sweeping black cape in the night, when it comes to reading about these dashing young men and their thrilling adventures, we just can't get enough.


The Three Musketeers
by
Alexandre Dumas
, 2006, Penguin Classics, originally published 1844 (Fiction Classics/ Adventure)




If you think
The Three Musketeers
is a stodgy old classic, think again. It is the original swashbuckler and an adventure story that has stood the test of time through hundreds of editions and translations, spin-offs, and
movies
. Hell, it's even got a candy bar named after it. The Musketeers are the private bodyguards of King Louis XIII of France in 1624, and the three of the title are long-standing members of this guard: Athos, Porthos, and Aramis. But the real hero of the story is reckless young d'Artagnan, a wannabe Musketeer who must prove his mettle and his devotion to the cause as the trio fight to defend king, queen, and honor against a devious Cardinal and mysterious spy known only as "Milady."
The Three
(or four)
Musketeers
set the mold (and maybe broke it too) for the dashing, daring, laughing-in-the-face-of-danger gentleman type that we associate with the swashbuckler. There are hundreds of editions of this classic, but the 2007 Penguin Classics Deluxe Edition is a real treat to read, complete as it is with a very readable and rousing new translation and a gleefully comic
illustrated cover
.


Zorro
by
Isabel Allende
, 2005, HarperCollins (Historical Fiction/ Adventure)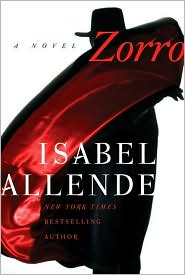 This crafty eighteenth-century revolutionary is more than a swashbuckler; Zorro is also an early type of the superhero with a secret identity (
Zorro
, in fact, was first created as a new caped crusader for a 1919 pulp magazine). In Isabel Allende's novel, we get the origin story of colonial California's very own Robin Hood. Diego de la Vega is the son of a wealthy Spanish officer and a beautiful Native American woman. Always conscious of his mixed heritage, young Diego witnesses first-hand the shameful inequalities native Californians (including his good friend Bernardo) suffer at the hands of the ruling Europeans. Diego is sent to Spain to complete his education and is recruited to La Justica, a secret society dedicated to fighting the powers of oppression and injustice. When Diego returns to California to fight for the rights of the land and the people he loves, the legend of the
masked avenger
is born. Allende believes that the glory of this swashbuckler lies in the history behind the hero, everything from childhood dreams to duels with his fencing master to a desperate love affair. There are modern touches as well to endear us modern readers to the old-fashioned tale—social reform, class differences, and a richly detailed historical context that make us love this rapier-wielding, Z-slashing mystery man even more. Allende is a highly accomplished, award-winning, critically-acclaimed novelist, and with
Zorro
she's all that and a rousing adventure story.


The Scarlet Pimpernel
by Baroness Emmuska Orczy, 2002, Modern Library Classics, originally published 1904 (Fiction Classics/ Adventure)


The Scarlet Pimpernel
is, like the Three Musketeers and Zorro, a defender of truth and justice during a time of oppression—he's just not quite as well known. But his story was a best-seller in its day and still makes for a swashbuckling good read. It is 1792, the beginning of the
French Revolution
and the reign of the bloody Guillotine. A secret society of Englishmen has formed to save their French counterparts from the blade; their leader is a dashing masquerader known only as the Scarlet Pimpernel from the small red
flower
he leaves as his calling-card. But danger for the Pimpernel lurks in two forms--a beautiful woman, the wife of an foppish Englishman named Percy Blakeney; and a dastardly villian called Citizen Chauvelin. Readers of this stirring tale will not be surprised to learn that the Scarlet Pimpernel, with his secret identity and daring deeds, was the blueprint for every masked avenger who came racing to the rescue later.


The Princess Bride: S. Morgenstern's Classic Tale of True Love and High Adventure, The "Good Parts" Version
by
William Goldman
, 2003, Harcourt Books, originally published 1973 (Fiction/ Fantasy/ Adventure/ Humor/ Romance)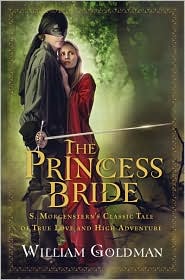 Most of us know
The Princess Bride
best as the charming
1987 movie
, but it was a book first, and an equally delightful one at that (due in part, no doubt, to author of book and screenplay being one and the same in William Goldman).
The Princess Bride
takes all the glory, revenge, and romance from classic swashbuckling adventure stories and turns the whole mess on its ear. There's still adventure galore, but Goldman frames his book as an old classic that needs all the boring historical parts edited out in order to get readers to the good action bits. It's a hilarious premise, since Goldman's descriptions of what's been cut (and why he's decided to make those cuts) are as clever as the rest of the adventure, which pits the beautiful Princess Buttercup and her true love Westley against an evil genius, a six-fingered man, and a power-hungry future king (not to mention a giant, a pirate, and a down-on-his luck swordsman). Filled with comic duels of the mind and the heart,
The Princess Bride
is a charming story that both critiques and celebrates the classic swashbuckler.


The Reavers
by
George MacDonald Fraser
, 2008, Alfred A. Knopf Books (Fiction/ Adventure/ Humor)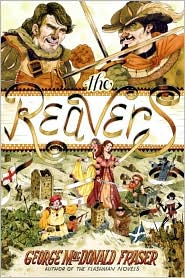 …And then the swashbuckler descended into chaos. This is a rousing, rambling, rowdy tale of spies, highwaymen, and luscious ladies. On the border of Scotland and England, a plot led by the mysterious mastermind La Infamosa is underway to kidnap King James and replace him with a Scottish imposter. But there are some forces of, um, good who stand in the way--Archie Noble, whose rugged good looks make him the perfect Elizabethan-era James Bond; Lady Godiva Dacre, who is nothing short of a knockout; her dimwitted maid-in-waiting Kylie; and Gilderoy, the sex appeal-oozing thief/secret agent. There's the fast-paced swordplay of a classic swashbuckler; there's also good the old-fashioned fistfights of a bar brawl. We've got witty puns told in Scottish accents and villains twirling their mustachios at veiled ladies. For cloak-and-dagger intrigue and whole lot of inspired silliness, look no further than
The Reavers
. George MacDonald Fraser is best known for his series about
Harry Flashman
, a Victorian-era cad who goes out of his way to avoid ever swashing any buckle of any kind.
Fraser passed away
early in 2008, so fans are certain to get a kick out of this delightfully nonsensical swan song.


The Pirates! In an Adventure with Napoleon
by
Gideon Defoe
, 2009, Pantheon Books (Fiction/ Adventure/ Humor)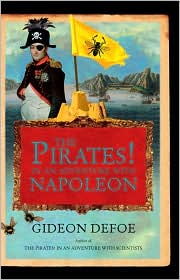 This is the fourth in the madcap
Pirates!
series by Gideon Defoe, whose swashbuckling pirates have previously run amok with Charles Darwin, Captain Ahab, and communists. This time around, the dashing Pirate Captain is nursing a wounded ego (he's lost the Pirate of the Year Awards) on the tropical island of St. Helena. Unfortunately, there's already another big ego with a sword on the island—the freshly exiled
Napoleon Bonaparte
. Rivalry ensues. Defoe delights in anachronisms and making fun of adventure stereotypes. Unabashedly juvenile, farcical, nonsensical, even ridiculous,
The Pirates! In an Adventure with Napoleon
wants nothing more than to make you throw aside your sword with hysterical laughter—but watch out for where it lands since, as the Pirate Captain would be sure to say, the sharp end of a sword can be rather pointy.


The Secret History of the Pink Carnation
by
Lauren Willig
, 2005, Dutton Books (Fiction/ Historical Fiction/ Chick Lit/ Romance)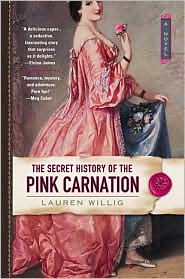 This is an updated swashbuckler, a story that combines the modern with history—and throws in a bit of chick lit romance for good measure. Harvard graduate Eloise Kelly is completing her dissertation about English spies when she comes across a trunk of letters and documents about a previously unknown historical spy. Soon Eloise and the reader are plunged into a novel-within-the-novel, the story of Amy Balcourt in the year 1803. Amy and her brother Edouard set off to Paris to join the league of another dashing spy, the Purple Gentian. But Eloise in the twenty-first century and Amy in the nineteenth are both obsessed with the elusive Pink Carnation, even as romance appears in both the present and the past in the form of dashing gentlemen with secrets of their own. Part detective story, part historical thriller, part romance,
The Secret History of the Pink Carnation
updates the classic swashbuckler while remaining true to its spirit. For more of the Pink Carnation's history, read the rest of the books in Willig's
Pink Carnation
series:
The Masque of the Black Tulip, The Deception of the Emerald Ring, The Seduction of the Crimson Rose,
The Temptation of the Night Jasmine
and
Betrayal of the Night Lily.
Gentlemen of the Road
by
Michael Chabon
, 2007, Del Ray Books (Historical Fiction/ Adventure)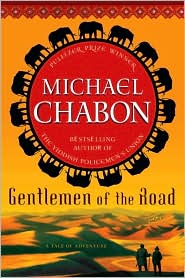 Zelikman is a scarecrow thin, rapier-wielding doctor from the Frankish countries. Amram is a giant African ex-soldier with a very large battle ax. Together they are gentlemen of the road—swords-for-hire making their way through the Caucasus Mountains in the year 950 A.D. Their code of honor, such as it is, extends only to each other and their loyal steeds. But when they end up burdened with Prince Filaq of the
Khazar
Empire, they also find themselves unaccountably moved to help the young royal avenge himself upon his usurping uncle and reclaim his rightful throne. It won't be an easy journey—Zelikman is moody, Amram is sarcastic, and privileged Filaq is just plain snobby—but it will be a swashbuckling adventure filled with sword fights, surprising secrets, and even herds of exotic elephants. Michael Chabon is a
Pulitzer Prize
-winning author (for
The Amazing Adventures of Kavalier and Clay
) who has delved into every genre from mystery to fantasy. When he tries his hand at high adventure here with
Gentlemen of the Road
, he is certain to be a rousing success. The action, which takes place over one thousand years ago, is deftly and richly described. The characters are real and funny, and the simple joy of storytelling (heightened by
illustrations
from
Gary Gianni
) always rings true.


Captain Alatriste
by
Arturo Pérez-Reverte
, 2005, G.P. Putnam & Sons (Historical Fiction/ Adventure/ Mystery)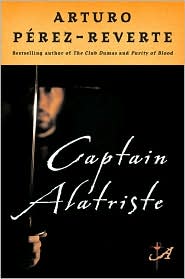 Captain Alatriste is a soldier for a country that's down on its luck. Spain's unbeatable
Armada
has been beaten, and the
Spanish Inquisition
is under way. So he makes his living hiring out his hand and his sword. One such employment—coming just when it's needed most, as he's just gotten out of debtor's prison—has Alatriste and a fellow assassin quietly snuffing out the lives of two English travelers late one night. But something about the Englishmen, something noble and worthy, stays Alatriste's hand. His sense of honor now re-awoken, Alatriste finds himself smack in the middle of a political intrigue involving the most powerful political forces in seventeenth century Spain and England. Narrated with acute observation by Alatriste's young squire Iñigo and chock-full of rich historical detail,
Captain Alatriste
is an ideal swashbuckler. This is cloak-and-dagger action that highlights a thoughtful, elegant plot with a dashing hero who is worth following. There is a series about this heroic swordsman; every title has been a bestseller in author Arturo Pérez-Reverte's Spanish homeland. Elegant new translations (finally!

Captain Alatriste

has been around in Spain since 1996) assure that this adventurer will win hearts on this side of the ocean just as easily. The sequels
, in order, are
Purity of Blood, The Sun Over Breda,
The King's Gold
and
The Cavalier in the Yellow Doublet.
Pérez-Reverte is a master of these literary historical thrillers; for even more of his swashbuckling style, try
The Fencing Master
as well.


The Tale of Despereaux: Being the Story of a Mouse, a Princess, Some Soup, and a Spool of Thread
by
Kate DiCamillo
, 2006, Candlewick Press (Children's Fiction/ Fantasy/ Adventure)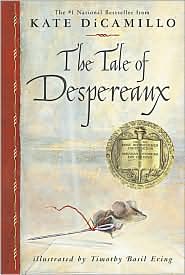 The Tale of Desperaux
is an adventure story for children, a mini-swashbuckler if you will. In fact, the moral of the story is that you can accomplish anything, even if you are very small. In a fairy-tale kingdom far away, a mouse named Despereaux Tilling is born. Despereaux is not like the other mice—he is very tiny, and very brave, and very much in love with the human Princess Pea. Despereuax knows that a true knight must go on a quest to win the love of a fair lady. Armed with a needle for a sword and his own romantic yearnings, Despereaux sets out on an adventure that will come to include the stories of lonely Princess Pea and her family; a dimwitted but wishful girl named Miggery Sow; and Chiaroscuro, a rat who loves the light. Author Kate DiCamillo is a skilled and subtle writer, seamlessly weaving compelling storylines with important messages for her readers, regardless of their age. The
illustrations
by
Timothy Basil Ering
are elegant and atmospheric. Even though it is a children's book, this is not a kind, gentle adventure story. There is real danger and tragedy in
The Tale of Despereaux
. It may be a swashbuckler of junior status, but it still has enough action, romance, and heart to satisfy any hero with a sword and a sense of honor.