Strange and wonderful things happen when the antiquated etiquette, horse-drawn carriages, and time-tested conventions of classic literature meet the aliens, time machines, and alternate worlds of speculative fiction...


Jenna Starborn
by
Sharon Shinn
, 2002, Ace Trade Books (Science Fiction)
Jenna Starborn
is
Jane Eyre
—in space. Author Sharon Shinn is an award-winning science fiction writer who transforms
Charlotte Brönte
's
classic into a futuristic story with all the same mystery, romance, and suspense. The Gothic tale translates surprisingly well, and the space-age twists make it almost like reading
Jane Eyre
again for the first time. And yet, at the same time, readers are immersed in a completely new world. Jane becomes Jenna, Mr. Rochester becomes Mr. Ravensbrook, and Thornfield Manor becomes a mining post on a remote planet protected by an energy field. Shinn re-imagines
Jane Eyre
exceptionally well (fans of that story will love comparing the plot turns and characters) and still gives Jenna a unique voice and a story that is entirely her own.


To Say Nothing of the Dog
by
Connie Willis
, 1997, Bantam Books (Science Fiction/ Historical Fiction)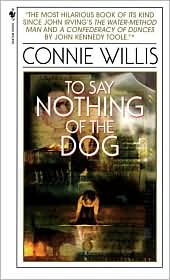 Cats, rowboats, World War II air raids, and the niceties of Victorian etiquette are just some of the challenges that Ned Henry and Verity Kindle face in this award-willing novel—not to mention malfunctioning time machines, a lost antique called the bishop's bird stump, and the restoration of the space-time continuum. Ned and Verity are students of time travel and history at Oxford in 2057. Ned's assignment: go back in time and find a strangely-named antiquity so that a destroyed cathedral can be rebuilt with exact historical precision. Verity's assignment: return the thing from the past that she should never have even been able to bring back with her. When their projects collide, delightful chaos ensues. Part sci-fi mystery, part comedy of manners, this is one of the most charming time travel concoctions out there. The title (among other things) is taken from
Jerome K. Jerome
's
1889 comedy about boating down the Thames,
Three Men in a Boat (To Say Nothing of the Dog)
.


The Eyre Affair: A Thursday Next Novel
by
Jasper Fforde
, 2001, Hodder & Stoughton Books (Fiction/ Science Fiction/ Fantasy/ Mystery)

Great Britain, 1985. The Crimean War has dragged on for 130 years. England is practically a police state. Cloned dodo birds are the pet of choice. And not only is time travel possible, but a few lucky folks can go inside the world of fiction. One of these is lovesick war veteran and literary detective Thursday Next, generally stuck behind a desk sorting out Shakespeare forgeries or moonlighting with the department's vampire-hunting division. But when a criminal mastermind starts kidnapping characters from their books, it's up to our gal Thursday to save the day. Fforde begs, borrows, and steals from the classical works of literature to create a ridiculous comic and satirical world. This is a smart, witty, genre-busting series with heroine Thursday at the helm. There's something for everyone is the
Thursday Next
series, and every book adds to the action, adventure, humor, mystery, and romance of the story that came before.
Lost in a Good Book
is the second title (featuring Miss Havisham, previously of
Great Expectations
), followed by
The Well of Lost Plots , Something Rotten
(where Hamlet is a character, along with wooly mammoths and Neanderthals),
First Among Sequels
, and
One of Our Thursdays is Missing
(due 2010).


Shadows Over Baker Street
, edited by Michael Reaves and John Pelan, 2003, Del Ray Books (Fiction/ Short Stories/ Mystery/ Horror)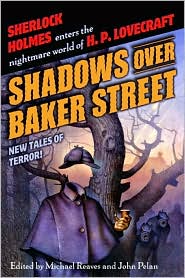 " 'Elementary, my dear Watson.' " "In his house at R'lyeh dead Cthulu waits dreaming." A collection of short stories written by some of the top names in speculative fiction,
Shadows Over Baker Street
takes detective
Sherlock Holmes
and sets him in the macabre world of early twentieth century writer
H.P. Lovecraft
. We know Sherlock Holmes best as
Arthur Conan Doyle
's
brainy Victorian detective who is so supreme at crime-solving that he'll only accept the really impossible cases. And Lovecraft is a writer whose stories about the
Cthulu
mythos (a human-destroying monster from the deep) and the Necronomicon (an ancient book of forbidden rites and spells) seem expressly written to combine the words
weird
and
horror
. In
Shadows Over Baker Street
, these giants of literature meet and meld perfectly. Who better than Sherlock, Watson, and company to solve the mysteries of Lovecraft's small-town mutants, ancient aliens, and dream monsters? The writers of this new batch of short stories--who include Poppy Z. Brite and Neil Gaiman---are clearly having an absolute ball bringing these two mythologies together. This clever blending of classics makes for a unique read that will thrill both horror and mystery fans alike.


The Looking Glass Wars
by
Frank Beddor
, 2006, Speak Books (Teen Fiction/ Fantasy)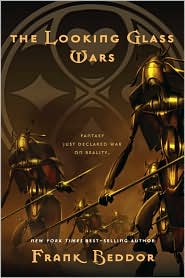 Lewis Carroll
got it all wrong, and Alice—or Alyss, as her name is really spelled—is
not
pleased. She was not a precocious girl who fell down a rabbit hole and had a silly dream. Wonderland is a real place and Alyss Heart is its rightful Queen. It is young Alyss's destiny to confront her traitorous aunt Redd and reclaim her throne, but she's stuck in Victorian England watching Lewis Carroll write a ridiculous little children's story. Meanwhile, a loyal band of rebels fights in her name back in Wonderland. Many of the characters come straight out of
Alice in Wonderland
, but with some deliciously wicked twists of their own. The Mad Hatter of the chaotic tea party becomes Hatter Madigan, a stoic bodyguard for the Queen. The White Rabbit turns into an anagram for Bibwit Harte, Alyss's long-suffering tutor. The Cheshire Cat is no longer a harmless grinning tabby but a ferocious assassin with razor-sharp claws.
The Looking Glass Wars
, in other words, is serious business. This first book of a planned trilogy is more than just a reimagining of
Alice in Wonderland
—it's a richly detailed fantasy set in a fractured parallel world that's run by the power of imagination. The second book,
Seeing Redd
, was published in 2007; the final installment is due in 2009.


Pride and Prejudice and Zombies
by
Jane Austen
and Seth Grahame-Smith, 2009, Quirk Books (Fiction Classics/ Fantasy/ Horror/ Romance)

As our story opens, a mysterious plague is causing England's dead to rise from the grave and hunt the flesh of the living. Miss Elizabeth Bennet, well-versed in both the feminine and the deadly arts, is content to slay legions of the undead and defend her family—until she meets the equally skilled but oh-so-arrogant Mr. Darcy. The classic text of
Pride and Prejudice
is intermingled with episodes of zombie mayhem. Mr. Darcy admires Elizabeth's fine eyes at the Meryton Ball; zombies attack. Elizabeth tours the grounds at Pemberley; zombies attack. The more familiar you are with
Pride and Prejudice
, the bigger the kick (or chop, or bite, or beheading) you'll get from this from this hilarious and ridiculous brawl, but the premise is outrageous enough to peak the curiosity of even the most anti-classics reader. But be warned--
Pride and Prejudice and Zombies
has opened up a whole new can of worms, and
Sense and Sensibility and Sea Monsters
(no joke) is set to be published in September 2009.
(P.S. You will enjoy these books even if you haven't read the classics they're based on!)